WCS Certificate
2023. 6. 29. 02:03ㆍWCS
How to get WCS Certificate
WCS Certificate examination can be applied online after receiving Online Course.
Only lv2. 303 WCS instructor can apply the examination for 505 level.
Those who have purchased "101-303 Course" can apply for the lv1&2.101&303 WCS Certificate examination online, after 3 months of online training at least.
The result can take up to one months, and lv1&2.101&303 WCS Certificate will be issued after the examination.
Those who passed the examination will be registered as a WCS Association Certified Instructor, and be allowed to establish WCS school in their own countries as well as to give WCS seminars on their own.
However, they are not authorized to issue WCS Certificate own their own. The right to issue WCS Certificate should only be granted to those who have received Level 707 Certificate.
Examination Contents
Film the movements learnt in online courses according to the following instruction. Either write the link address in the application form after uploading in your Youtube as "Unlisted".
If you have a partner, do it together. If you don't have a partner, do it alone.
Mater DK Yoo will issue the certificate after personally reviewing the examinations. The certification will not be issued if the applicant lacks the necessary skills. In this case, the applicant can try it again after a month in free.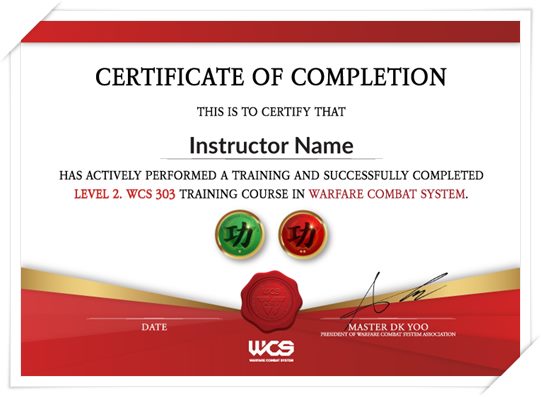 $25 USD : Level 1&2. 101&303 Certificate Cost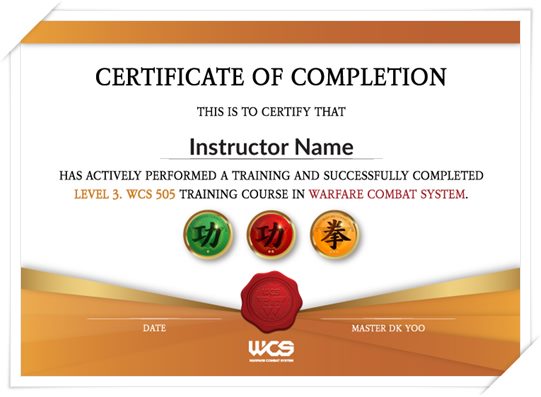 $25 USD : Level 3. 505 Certificate Cost